Best Bounce House & Water Slide Rentals in St. Louis
Proudly serving over a Thousand customers every year for over 10 Years
St. Louis, Missouri, has always been known for its vibrant community and rich history. And nothing brings the neighborhoods of Central West End, The Hill, and Lafayette Square to life quite like the sound of children laughing and playing. Jammin Jumpers, a premier bounce house company in the area, has made it its mission to add a bounce of fun to every party, ensuring that both kids and adults have an unforgettable experience.
Located near renowned schools like St. Louis University High School and Central Visual & Performing Arts High School, Jammin Jumpers understands the importance of quality, safety, and the sheer joy of letting loose. They've even provided inflatables for events at St. Louis King of France Church, which showcases their versatility and broad appeal.
From birthday parties in Lafayette Square to school events in St. Charles and even family get-togethers at churches in the area, Jammin Jumpers has become the go-to for inflatable rentals. They offer everything from traditional bounce houses and moonwalks to water slides and dunk tanks. Their inventory boasts a variety of items tailored for all ages, ensuring that everyone—from toddlers to adults—finds their kind of fun.
Now, if you're asking yourself why choose Jammin Jumpers over any other company, their customer service is unmatched. Their experienced staff is always ready to answer questions, be it about sizes of bounce houses, prices, or the types of obstacle courses available. Their commitment to quality and safety ensures all their equipment is top-notch, and their delivery, setup, and teardown process is seamless. For further proof, just check out their rave reviews on Instagram and their official site.
For those organizing larger events, Jammin Jumpers goes beyond just bounce house rentals. Their selection of party rentals includes tents, tables, chairs, and a variety of games, ensuring your party is complete. Their warehouse in St. Louis, MO, houses a vast array of products that cater to any party needs. And if you're across the river in Illinois, don't fret. They serve that area too.
Getting your hands on this entertainment is simple. Just give them a call or book through their reservation system on EventRentalSystems. A small deposit secures your choice of bounce house or water slide. Once your order is confirmed, all you need to do is anticipate the fun.
In conclusion, for the best bounce house and water slide rentals in St. Louis, Jammin Jumpers is your top choice. For more information, check out their menu of services and full list of inflatables on their website, or simply pick up the phone for a quick quote. Their team is waiting to make your next event a hit!

We proudly serve O'Fallon, Belleville, Edwardsville, Troy, Collinsvile , Fairview Heights, Glen Carbon, Granite City, Maryville and other surrounding areas. Check out our inventory below!
Click below for the most fun party rentals in your area
Order-by-Date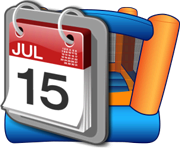 Bounce House without Slide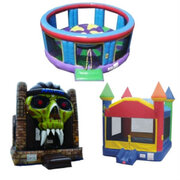 Bounce House with Slide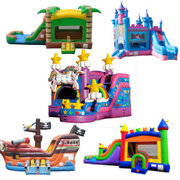 Obstacle Courses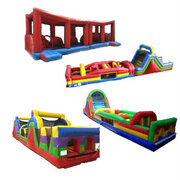 Game Add Ons and Bubble Machine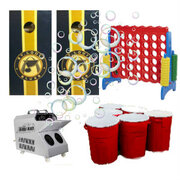 Waterslides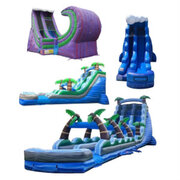 Check Out Our Most Popular Inflatable Rentals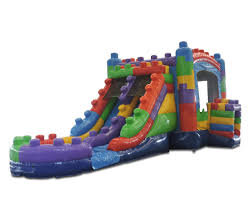 Bounce House Rentals
Dive into the magic of bounce house rentals in Saint Louis, MO, with our impeccable service tailored for all your celebratory needs. Nestled in the heart of Missouri, our family business has been serving neighborhoods like Central West End and The Hill for years, bringing unmatched joy to parties. We understand the essence of creating special moments, especially for kids. From birthday celebrations to special events, our inflatable houses have become an essential feature, providing safe and clean entertainment. What sets us apart is our affordable and reliable service. Our friendly team ensures a smooth experience from reservation to delivery, followed by a hassle-free setup. With years of experience under our belt, our customers trust us to elevate their parties. Choose our bounce house rental service in Saint Louis, and let us transform your event into a memorable extravaganza!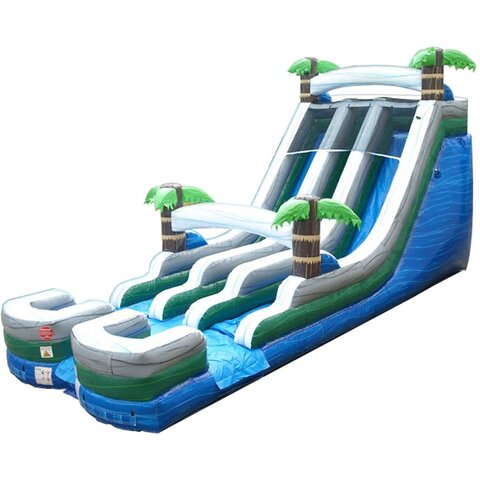 Water Slide Rentals
Summer in St. Louis can bring the heat, but what better way to cool down than with exhilarating water slide rentals? Perfect for those scorching days, our slides become the centerpiece of any event, especially for kids eagerly awaiting some splashy fun. From Tower Grove to Soulard, neighborhoods across St. Louis have experienced the thrill of renting our water slides for birthday party rentals and other special occasions. Our inflatable water slides not only promise unmatched fun but also ensure value for money. People all over trust our reliable business for their party needs. With a friendly approach to reservations and the commitment to enhance every event, our team guarantees a seamless rental experience. Let the laughter and squeals of delight accompany your next summer party. Dive into the world of water slide rentals in St. Louis and make every moment unforgettable!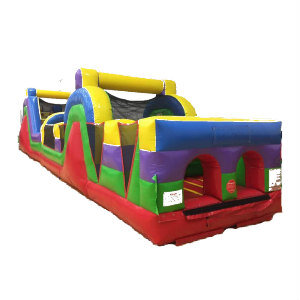 Obstacle Course Rentals
Elevate your St. Louis events with our dynamic obstacle course rentals, the perfect blend of excitement and challenge. Nestled within communities like Shaw and Benton Park, our inflatable bounce house obstacle courses have become the highlight of many birthdays and special occasions. They offer friends and family a unique experience, allowing groups to bond while navigating through the fun-filled challenges. Whether planning something exceptional for a birthday bash, a corporate gathering, or just a friendly get-together, our obstacle courses cater to all. Beyond just parties, these rentals have adorned family celebrations, bringing an added layer of enthusiasm to the festivities. Every detail is meticulously planned to ensure safety and maximum enjoyment. Trust our obstacle course rentals for those special events where ordinary just won't do. Dive into a world of fun and let us be a part of your memorable experience in St. Louis!